21 Examples of Restaurant Design Inspiration
---
In an age where restaurant and café visuals are splashed all over Instagram, the hospitality industry is a hotbed for design. Whether it's a start-up café or an established chain, there's a huge demand for designers to create an identity that's stylish and unique for print products such as menus, flyers, table talkers, gift vouchers, loyalty cards and bill holders.
From pastel colour palettes to dynamic typography, we've rounded up our favourite examples of outstanding restaurant print design to help give you some inspiration for your next branding project…
1. Amelie
This illustrative brand design for French bistro, Amelie is stunning. The use of brisk white combined with black, gold and pink gives it a sophisticated edge that we can't get enough of!
2. Astronut
With a brilliant logo, a fun and fresh colour palette and a loyalty card shaped as though someone's taken a bite out of it, donut-maker, Astronut knows a thing or two about great print design!
3. Batinse
Judging by the bright, buoyant menu design, you'd imagine that Canadian restaurant Batinse is a feast for both the eyes and the palate!
4. Bottura
With flyers, menus, coasters and square business cards in the print mix, there's plenty of scope for Buttura to get inventive with design. And with such rich and vibrant results, it's safe to say that they got it spot on!
5. The Butler
The branding for The Butler in Sydney was the handiwork of designer Julia Jacque. Using fashionable colourssuch as dusty pink and leafy green, her creation manages to be both chic and edgy.
6. By Chloe
By Chloe's print repertoire merges on-the-pulse design with a fast-casual dining concept. The result is fun, cool and quirky - but what else would you expect from a New York vegan burger joint?
7. Calexico's
The design brief for Mexican restaurant Calexico's was 'to create an identity that would feel like a street taqueria gone mad with luxury.' …Nailed it!
8. Camp
Using bold typography and solid black icons, Montreal's Camp's strong identity comes across in its print.
9. Craft
Using a mixture of turquoise, pink, navy and black, the print designers for this London-based eatery chose mark-making to express the unique and always different experience of drinking and dining at Craft.
10. Eleven Madison Park
New York's Eleven Madison Park offers its diners an 'inherent surprise' thanks to its 28 word food menu, which serves up just sixteen principal food ingredients to choose from. The result is minimal and elegant, with a dash of intrigue.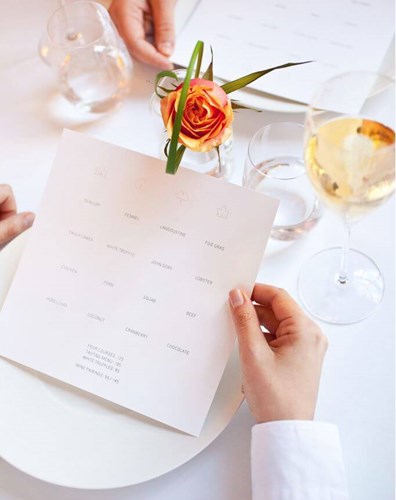 11. Fika
Coffee break by day, cocktail joint by night, the print design for Brick Lane venue, Fika needed to represent both functions, which it skilfully achieves.
12. Full of Luck Club
Serving up authentic Chinese comfort food, Singapore-based Full of Luck Club uses pastel palettes and dynamic lettering to help its print stand out.
13. Gretas
The interior design for Stockholm's Greta's is such a stylish treat for the eyes, so it's little wonder that its print design follows suit! Fun fact, this is the place where Greta Garbo was discovered while working at one of the concessions!
14. Holly Burger
The identity for Holly Burger in Spain was designed by Manuel Astorga and Rodrigo Aguade. They explained that 'the idea was to create a real American-style brand with a fresh mix of style references…. Vintage, hand-drawn American typographies… and a banana leaf wallpaper that had been originally designed in 1942 for the Beverly Hills Hotel in Los Angeles.'
15. Holy Smoke
The print collection for Holy Smoke was designed to complement the worn textures and warm, earthy colours of its elegant, masculine interior.
16. Jack's Wife Freda
The graphic design for New York eatery, Jack's Wife Freda infuses playful copywriting and charming illustrations to perfectly communicate its warm, relaxed and quirky atmosphere.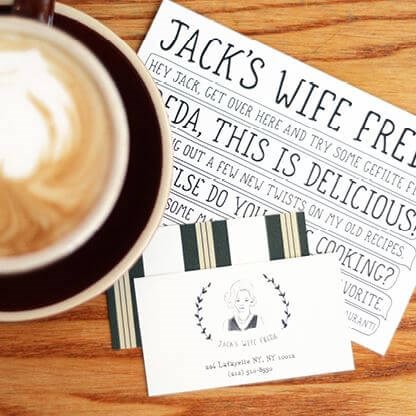 17. Landry and Filles
With craft paper, typography that looks handwritten and prices displayed without the currency symbol, the print design for Landry and Filles is bang on trend. The royal blue is a great touch too.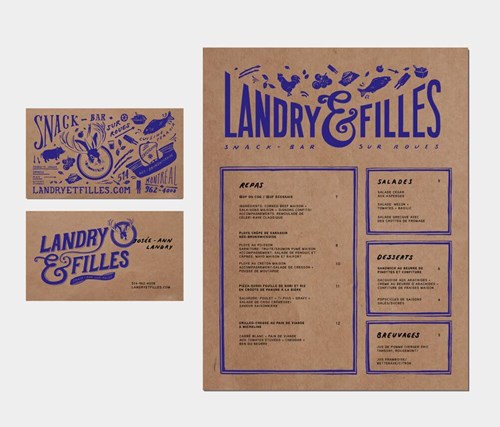 18. Matamata
The use of leafy imagery has been huge in design this year, and it's easy to see why. The flyers and menus for Parisian café Matamata are wonderfully lush, and instead of using generic copy to head up each section of the menu, they've used playful phrases to draw the eye.
19. Palomar
The designers behind London-based Palomar's identity describe their creation as reflecting 'romantic and nostalgic feelings of bygone days'. We couldn't agree more!
20. Sketch
Mayfair's Sketch is an Instagrammer's dream. Known as the destination for music, art and food, it expands over two floors, with each and every room offering up striking visual delights. Of course, the print design had to do justice to the avant-garde interior, and boy does it achieve that! It's bold and sophisticated with a twist of vintage chic – the perfect match for this impressive restaurant.
21. Sushi & Co
Sushi & Co resides on a Baltic Seas cruise ship, and the print reflects this flawlessly. With a simple but clever logo, oceanic icons and a stylish colour scheme, it stands out as one of the best examples of restaurant graphic design.
---