Designing the Perfect Business Stationery Set
---
The benefits of a quality business stationery set are far-reaching. Not only is it an essential part of establishing your professional status, office stationery is also a great marketing tool. Even before accessible printing, people were branding their documents with a bespoke wax seal.
Find out what to put on your checklist and check out some examples of great stationery kits so that you know where to start when designing your own. Plus, understand the legal requirements around official documentation.
What Does a Business Stationery Set Include?
In its most basic sense, the term 'business stationery' refers to the paper-based materials you use for official documentation. Letterheads make the centrepiece of any stationery set. With a personalised letterhead design, you can ensure your brand information is included by default on anything your print internally.
You should complete your set with matching compliment slips and correspondence cards for quick, handwritten notes. A compliment slip will be DL sized and the same paperweight as your letterheads. These are used for very casual messages and can be slipped into a parcel without any further packaging. Correspondence cards are for more formal notes. These will be printed on heavier stocks, A6 in size and sent within an envelope.
Some businesses might choose to extend their stationery set beyond this. You might also want presentation folders to keep related documents together, notebooks and diaries for staff members, or even a bespoke set of stickers and labels.
What Information Needs to Be on Your Business Stationery?
For the most part, you have a lot of freedom over your stationery. However, there are a few regulations around official documentation that you should be aware of – having this information in your default letterhead design means you don't need to remember it with every new document.
The company name of any limited company must be included on all documents, publicity and letters. You must also include the following on all business letters, order forms and websites:
-    Registered company number
-    Your office's registered address
-    Country where you company is registered
-    The fact that it is a limited company (usually marked with 'Limited' or 'Ltd.' after full company name)
Please note that different rules apply to invoices. Head to the government website for more details.
After you have these official bits embedded in your design, you can think about added any or all of the following elements;
-    Company logo
-    Slogan or current marketing campaign tagline
-    Year of establishment
-    Contact information
-    Standards certifications
-    Awards logos
How to Design Your Business Stationery?
We've collated a few examples for you, covering a range of different styles you could try out. Our main tip though, is to really think about your brand's personality. Just like business cards, stationery is an opportunity to express the core values of your company. Don't go for cartoon animal characters if you're trying to sell serious financial solutions to the country's elite – you get the idea?
Super Minimal
If you are trying to sell serious financial solutions to the country's elite, this might actually be one avenue to look at. Keep it simple with lots of white space to draw attention to the important information you have included.
Simple but Strong
Taking one step up, you can have a minimal design but use brighter colours to lighten the mood. The clean, sans serif font in this company's logotype clearly demonstrates a relaxed but professional brand personality.
Play with Grids
Many stationery designs restrict all the action to the headers and footers. Use grids to maintain a clear structure but maybe move things over to a side column. A good rule is to have two thirds blank space to one third design.
Use Watermarks
Another way to use more of your canvas is to include a watermark; often an enlarged logo or another image related to your brand. As long as you use lighter tints or high opacity levels, you will still be able to print over it and read the text.
Break the Mold
You see a lot of straight lines in business stationery – if they're not explicit then they will be implied. However, there is a growing trend for more flowing, natural shapes across the design world. Why not introduce that to your stationery?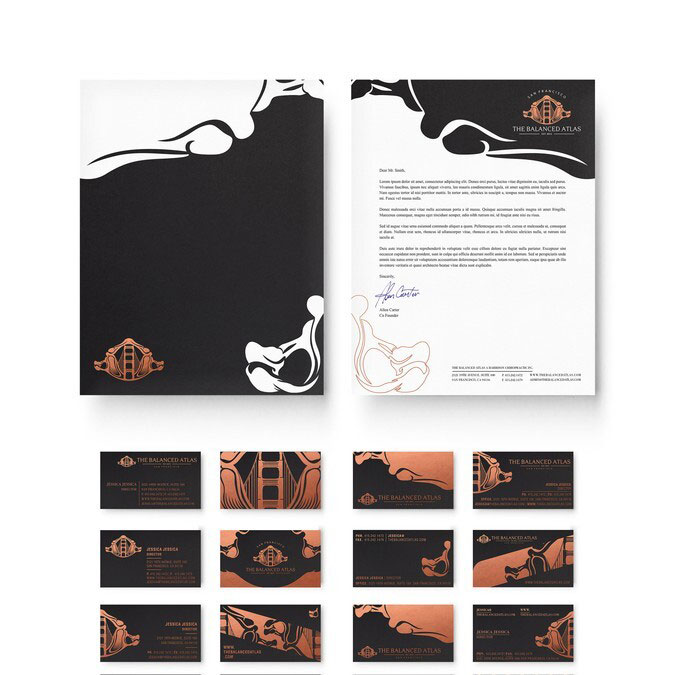 Source
Bring in the Colour
Don't be afraid to go big with colour in your stationery design. As long as you leave the appropriate space for text, your design space can be filled with blocks of colour. The vibrant colours in this example would certainly be missed in a more minimal design.
The Power of Paper
Never underestimate how important your stock choice is. After some very adventurous designs, this stationery might seem relatively sedate, but the design doesn't need to be complicated when printed on a high quality stock like our Conqueror Wove.
For more help with your business stationery, read our 3 step guide to a successful rebrand and explore even more corporate branding inspiration. 
 
---