How to Create a Freelance Graphic Design CV
---
Creatives have more pressure than any other industry to make sure their CV and portfolio represents their best work. Designers see them as another platform to exhibit and promote their digital skills, and so the classic CV has transformed into an art form in itself. It's time to throw away the standard templates and start experimenting with original ways to showcase your talents, so check out the tips and tricks we gathered from the best graphic design CV's to use as inspiration for putting your skills under the spotlight.
Typography
Unique font design is a major demand from clients, so ensure they know you can choose appropriate and attractive fonts from the start. Try to avoid free fonts to show you're more inventive than choose from a drop down list in Microsoft Word. If you have a certain style and an established personal brand, use your CV typeface to highlight this; just make sure it's still clear to read and non-distracting.
Behance.net
Cathlyn Vania used a handwritten font to compliment her own illustrations for a totally bespoke representation of her abilities. Her illustration skills and playful brand shine through her CV design whilst still presenting the important information.
Infographics
Infographics were designed especially to make blocks of information more visually digestible. Since the standard CV template is one of the most overused layouts of them all, it makes perfect sense to revamp curriculum vitae mundanity into an interesting and informative design.
Hee Sun Kim designed this bold infographic CV which broke down his achievements in a vibrant and consumable manner. The design doesn't distract from the information, but segments it into useful sections and highlights his most notable accomplishments.
Pinterest.com 
Interactive
Not all CV's have to printed. Robby Leonardi's interactive resume went viral when it surpassed the hands of employers to the admiring gaze of the general public who praised the designer's creative use of a platform game which his CV so memorable.
rleonardi.com
A little less playful but equally as impressive, Charles Richard's online resume is a scrolling magnum opus. His achievements and qualifications slide effortlessly onto the page as you scroll further down for a simple and effective interactive display of information.
 charles-richard.net
Look beyond A4
A CV can still look professional without being presented on a single sided A4 sheet of paper. Consider how you can use different folds, shapes and sizes to exhibit your experience in a manner that captivates attention in the right way. Amber Van Miegham cleverly designed a folding CV which expressed her creativity whilst retaining a crisp, professional style.  
Behance.net
Less doesn't always equal more. If you feel you have more to say than could fit on one size of A4, try a mini booklet or brochure. Sengsavane Chounramany from Australia created this portfolio booklet which doesn't cram information in, but presents it in an impressive format which can be read quickly.
behance.net
Use a great colour palette
Again, you can use colours creatively without compromising on professionality. Decide on a colour palette which can grab attention without being too garish; one which compliments your portfolio or personal brand will help cement your identity and memorability.
Abdullah Al Mamun spun traditional CV colouring upside down with light colours on a dark background. His bold lettering ensured it could still be read easily and the consistent colour scheme gave it a sharp edge.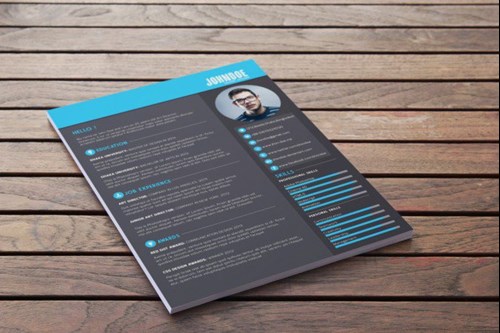 Behance.net
Keep the client in mind.
Most job seekers tweak their CV for each job application to highlight the relevant experience for that position. The same should go for freelance graphic designers. If you're going for a job in the corporate sphere, clean sans-serif fonts and simple colours used well will show your appreciation for the company's brand and culture. A simple quirk like adding a border to frame the content gives a proficient twist that will help your CV stand out.
DesignSchool.Canva.com
"Your resume has to dress the part", career counsellor Lynn Berger told Business Insider; "….just like you wouldn't wear a mini skirt to a job interview, you need to match the resume for the job you're looking for."
 behance.net
Eric Gandhi took Lynn's advice perhaps more literally than she expected when he submitted this CV to Google. However, his innovation paid off when this CV was found by a Google employee and he landed himself an interview. This particular example probably won't get you through the Google doors now, but serves as a shining example of how showing your potential employer you're dedicated enough to personalise your CV to cater to their needs is beneficial.
Don't go overboard…
Remember, the client will also want to be able to read your experience and skills clearly and unobstructed. Use design as a way to enhance the content, not to overrule it. Debbie Millman, President of Design at Sterling Brands told Forbes that "substance over style is the rule for ALL resumes… you want people to concentrate on your accomplishments and your successes. Don't let design disrupt communication."
---