Social Media Image Size Cheat Sheet
---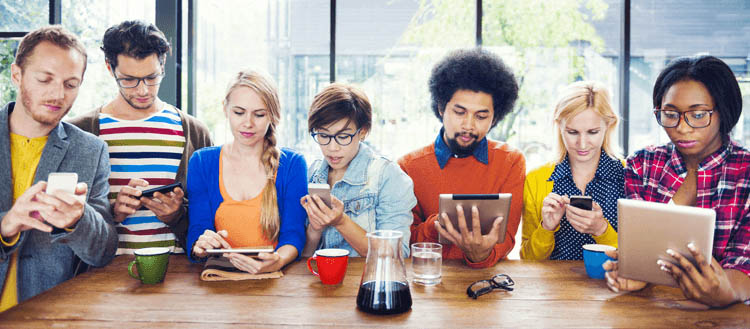 Managing social media accounts can sometimes feel like a chore. It's that extra thing you have to do to bring in customers when actually you want to be working on the jobs your customers are giving you. Let us help make it a little easier for you with this cheat sheet.
Make sure your account has maximum impact by using the right size images for all your posts. Read on to find out how to optimise your profile on Facebook, Twitter, Instagram, LinkedIn, and Pinterest. (Correct as of 10/05/19.)
Facebook
Profile Picture: Images in desktop view will be cropped to circles at 172px in diameter. On mobile, profile pictures will still remain a 1:1 square. The higher the pixel count, the clearer the image even after it is sized down for Facebook.
Cover Photo: Minimum 400 x 150px but you are recommended to use an image at least 820 x 360px. Exactly what is visible depends on screen size but it's useful to think that, on desktops, your image will be cropped by 24px on the top and bottom edge and, on mobiles, it will be cropped by at least 90px on both side edges. This leaves you a safe zone of 640 x 312px in the centre.
Image Share: You can upload images of any size to Facebook. The maximum space your image will take up within a news feed is 500 x 750px – any taller than that and it will be cropped. Landscape images will be scaled down to maximum width of 500px. Multiple images will influence the way your post appears in the news feed.
Link Share: Image accompanying a link will appear as a landscape image at 500 x 261px, like in 'Link Share 1'. Images much smaller than that will appear as a square next to the link preview, like in 'Link Share 2'.
Twitter
Profile Picture: Minimum accepted size is 200 x 200px but it's recommended you use 400 x 400px.
Cover Photo: Twitter recommends that you use the maximum available size which is, 1500 x 500px, but it will accept sizes as small as 1024 x 280px. Bear in mind that the profile picture will overlap in the bottom-left corner so you don't want to place anything important there.
Image Share: The recommended size for Twitter image uploads is 1023 x 512px or stick to a 2:1 ratio.
Link Share: When sharing a link to another site, an image can also be included but will be slightly smaller than image-only posts. Aim for 800 x 418px for your link previews.
Instagram
Profile Picture: Instagram profile pictures are cropped to a circle at a ratio of 1:1. On mobile view – the most common medium for Instagram users – the image is displayed at 110 x 110px. However, it displays larger on desktop view so it's best to use a 180 x 180px image to look good on both.
Image Sharing: Instagram tiles on your profile always show as 1:1 squares so it is often a good idea to use the same ratio; 1080 x 1080px. You can upload profile (1080 x 1350px) or landscape (1080 x 566px) images though, they'll just be cropped into square tiles.
Instagram Stories: When clicked on, stories take up more of your mobile's screen. Use a 9:16 ratio or, more specifically, images at 1080 x 1920px. These are the same dimensions for Snapchat and Facebook stories.
LinkedIn
Profile Picture: LinkedIn Company profile pictures display at 300 x 300px, slightly smaller than individual's profiles.
Cover Photo: LinkedIn Company cover photos are also a different size to individual cover photos. They follow a 2:1 ratio to account for the how the layout changes depending on the screen size. They recommend 1536 x 768px but be aware that, in some views, the lower half of that image is obscured by your company information.
Hero Image: This is only available to companies who subscribe to LinkedIn's recruitment service. The hero image appears at the head of their 'Life' tab and you should have a 1128 x 376px image, or a 3:1 ratio.
Image Share: You can share images that complement your post updates. LinkedIn recommends images at 1,104 x 736px.
Link Share: Images accompanying links to external articles use a different ratio. Choose images that are 1200 x 628px.
Pinterest
Profile Picture: With a 1:1 ratio and cropped to a circle, your profile picture should be 240 x 240px.
Pin Image: Pins behave differently when they appear in the feed and when they appear in a board. In the feed, they will stick to a 1:1 or a 2:3 ratio but, in a board, they may appear much longer. They will always be portrait. For best results, make your images 735 x 1102px.
Board Cover: Title images in a board, or cover, will appear as a square image with two other images from the board in landscape on its right. If you want to create a bespoke cover image, it should be 600 x 600px.
Find more help with your social media schedule with our tips on how creatives can make the most out of each platform. 
---