10 Steps to Personal Branding For Designers
---
In a nutshell, "brand identity" is how businesses want to be perceived by others. It starts as a set of core values, which ripples out into ideals and personality and then solidifies into concrete concepts such as design, tone-of-voice and creative style. Big businesses spend millions shaping their brand to appeal to their target audience. Finding authenticity in a crowded marketplace with a brand that resonates with your customers is the ultimate goal.
91% of customers want brands they follow to be authentic according to agency Bonfire Marketing, and Boston Consulting Group affirmed that authenticity is one of the top qualities that attracts customers to brands.
In comparison to large businesses, Freelance Graphic Designers have the ultimate advantage. Nothing can be as authentic or unique as an individual person and their unique style. The best way to build a brand identity that draws and retains clients is to let it reflect your personality.
What's really interesting about freelancers in the digital age is that we've already been building our personal brand identity online without even realising. Shama Hyder from Forbes notes that "today, almost every individual already has a personal brand. Not many consciously cultivated these brands, but they exist nonetheless." Everything you post on social media, from your tone of voice to designs you admire and retweet, is a reflection of how you want people to perceive you.
Another huge benefit freelance graphic designers have over other freelance professions is that you have the visual acumen and design skills required to build a brand – literally – at your fingertips. You have full freedom to immediately express your imagination. However, this can also serve as a double-edged sword. With such brevity of ideas and creativity, you have to harvest all your ideas into a consistent brand that reflects your style.
This 10 step guide will show you how to properly harness the way you project yourself to the world professionally, which for graphic designers, doesn't have to be entirely different to how you would outside of work. We'll explain how to tap into your creative style and let it leak into all of your marketing efforts to systematically build a brand that's irresistible to the clients you want.
How to Design A Personal Brand That Wins the Clients You Want
1) Think Like A Big Brand
Large businesses go big on their branding. In 2015, Disney spent $2.1 billion on brand marketing, just shy of Ford who racked up a $2.5billion spend (Business Insider UK). Now we're not saying spend every penny you make on branding, however, the sums represent the meticulous care and effort branding has on successful businesses.  
Thinking like a big business is easier if you've been employed by a company who pours their efforts into branding, but it can be hard to comprehend if you've only worked for small businesses or went straight into self-employment. People who work at Disney live and breathe Disney. Every image or design is embellished with the signature typeface, and most releases, from its soundtracks to latest rides at Disneyworld, conform to the magical escapism it represents.
Once you've defined your fonts, colour, logo and tone of voice, you must replicate bigger brands tendency to reinforce all promotions and communications in its style. Wanda Priem encapsulates this notion impeccably in her self-promotion kit. Like our example of Disney, she stamps her mark on a wide variety of "merchandise" which she sends to potential clients. Her organic, natural tones are reflected in the nudes and enhanced by the wooden ruler. She's thought about what products will reinforce her brand to the greatest effect, and in turn, leave a lasting impression in client's minds.
2)      Profile Your Audience
The fundamental concept of marketing is finding ways to make your business attractive to a specific audience. Write a list of your previous clients you've enjoyed or successfully worked with, and a wish list of the sort of customers you're trying to attract. Find the similarities that thread them together, and use those as a base to explore your own branding.
A mood board which displays the sort of client you work for and inspiration from the industries is a perfect place to start. Brazilian designer Lucas Marcolino created this inspiration collage to figure out how he wanted to define his branding.
A bold monochrome colour palette dominated the board, which on closure inspection is filled with images from a variety of sources. Angles are created from imposing buildings to powerful athletes, which helped Marcolino create a masculine personal brand that would attract clients wanting a strong, striking design, such as sports companies.
3)      Define Your Strengths & Style
If you tend to apply variations of a specific creative style in most of your projects, it's important to incorporate them into your branding. Clients want to know who they're hiring, and what they are going to be able to do for their business. It will also accentuate the authenticity of your brand, which as discussed above is our ultimate goal.
Dutch designer Coen Pohl admitted on Behance that his self-branding project was probably the most difficult design to complete. "I wanted to let it reflect a lot of things at once; my obsession with cities, my love for patterns and geometrical shapes, and I wanted to have a dynamic element with which I could play around with. The result is a pattern, created of individual isometric 'pieces', which can be put together in random order, creating a new city to explore over time."
Not only does Pohl's design display his intricate eye for detail which promotes his raw talent, but he expresses important elements of his personality to give the authentic edge brands strive so hard to create.
4)      Suss out the Competition & Figure out What Makes You Unique.
Finding a place in a competitive market is why personal branding is so powerful. Find out who other freelancers are working for, how they brand themselves and what sort of design they're doing for their clients. Competitor research is a vital part of any marketing and branding strategy.
If you're designing for a local restaurant, not only look at their direct competitors but the designers who branded them. You'll start to construct a deeper insight into the market and find the gaps which you can fill.
Both these below examples are the self-branding projects of two designers who place themselves within different areas of architecture. Jon Pazos is an architect and designer from Barakaldo, whilst Stuart Davis is a landscape architect. They've both analysed their markets and found different ways to portray themselves and stand out.
Jon decided to form his logo from an abstract synthesis of a self-image, in order to "create a more trusting relationship with future clients". He's based his entire branding on authenticity, with a neutral, earthy colour scheme evoking a natural and honest brand.
Stuart, on the other hand, wanted a design that established his creativity whilst nodding to his qualifications and experience. The green tones of the inside of his portfolio mirror the grass landscapes he will be designing which contrast with the minimalist and chic monochrome colour.
5)      Establish your tone of voice through blogs and social media.
You've probably read hundreds of articles that emphasise the benefits of blogging to freelance graphic designers. Not only do they position you as an expert in your field, but also help people find you easier on search engines.
What these guides may not touch upon is how blogs and social media are the perfect channels to establish your tone of voice. Think about how colloquial you want to be; are you attracting start-ups or corporates? Are you interested in children's design or local projects? Write all your blogs and social media posts to let potential clients get a clearer perception of your brand.
Katsy Garcia wanted her work to be remembered by her name. She even created her logo using her own handwriting which simply spells her name to strengthen her brand. When it came to her tone of voice, from her CV to the back of her business cards, she decided the best way to keep in line with her brand was to refer to herself in the third person for a quirky, fun twist.
She allowed this tone of voice to stretch to her website, which introduced her to potential clients in the third person. Everything is consistent, colloquial and presents her brand as honest and interesting.
 
6)      Design A Logo That Represents You
When it comes to your logo, you can be your own worst client. When you design a logo for a business, you ask them their core values, offerings and personality and try to convey that in one small space. However, when you're designing your own logo, it can often feel like you have to truly confine your entire personality, history and wants into an image a few pixels wide. A terrifying feat for any designer!
For freelance designers who want their name to be the focal point of branding, designing a logo often compresses down to a colour scheme and typeface that acutely represents themselves. Claudia Luque is a Spanish designer who let her chosen font and pink colour scheme lead her logo, which is given a subtle twist with a gentle wave of type.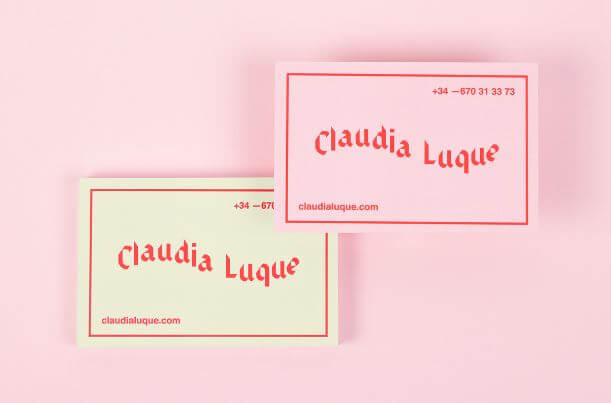 Georgia Smiraglia goes one step further and wraps her brand up in one beautifully simplistic character, which is a blend of her first and last name. She uses Arno Pro to create the rest of her typeface across self-promotion materials.
Her logo is also incredibly dynamic, as she excludes a tiny section of it to form the basis of the pattern she uses across her letterheads, business cards and other stationery for a consistent brand that is based completely on her name.
7)      Choose Your Colour Palettes and Fonts 
The importance of colour in branding is no secret to designers and the fact that colour increases brand recognition by 80% (sunjones.com) will not be any news. Choosing a colour that again represents you can be a daunting task, and it's imperative that you only stick to three or four as a maximum.
We suggest leaving colour until you've solidified your tone of voice, clients and even logo since all these things will greatly affect your choice of colours. Although colour may be limiting, remember that through different textures and patterns, there's always scope for versatility!
Lucie Bonne tied her colour scheme and font choices nicely together with a bright, pastel feel which presents her illustrations and design style perfectly. The variations in colour bleed into her graphic elements and allow a large amount of freedom from such a restricted palette.
8)      Dedicate Time To Build Presence Online
There is no defined term for a "fear of self-promotion", yet it is a dread every freelance graphic designer must face. It will be drilled in your head to dedicate time to build your presence online, but actually putting in into practice is often at the bottom of your priority list after deadlines.
Before you start: set aside a day to perform the painstaking task of resizing your logo and patterns to fit each social media page. Twitter, Linkedin and Facebook headers all demand something different, so getting it out of the way in one sweep will set you up for a consistent presence socially. 
At the end of the week, perhaps on a Sunday, make a mini plan for social media to plot your self-promotion efforts to build a following that gets your name in front of the people you want. Decide what you're going to post on each channel and when, and research popular hashtags that your target market is using.
9)      Stock Up On Print Basics.
It's now time to make your brand official. Cement your logo, colour schemes and patterns on all the stationery you'll need when networking, invoicing or just saying hello. That means business cards, letterheads, portfolios and postcards which you can send to current and potential clients.
Again, adjusting all your deliverables in one clean sweep is a good way to ensure everything is consistent. Daniel Wirabuana found ways to incorporate his logo, design and colour scheme on everything from CV cover to branded envelopes to send out to customers. Everything from a thank you card sealed with a branded sticker will prove to clients you take as much care in your branding as you will with theirs.
10)   Create Brand Strategy Guidelines.
Now these can be as detailed or basic as you like, but creating brand guidelines which document your colour choices, font scheme even down to examples of your tone of voice will keep your branding sharp. It will come in handy when you're rushed for deadlines, or if you ever decide to hire someone to help with any aspect of your business.
Something as simple as Jonas Nullen's quick guide which houses all of his graphic icons, elements and typeface to refer to when branding his communications.
As you can see, developing your personal brand to authentically represent you and your freelance business takes as much thought and time as you would approach that of a client. Just make sure you've defined all of your assets and deliverables and your brand will soon be the perfect channel to carry your skills and showcase your talents to potential customers.
---