10 Awesome New Design Blogs To Look Out For
---
Designers really love blogs. Choosing just ten of the amazing design blogs gaining popularity at the moment was no easy feat! Graphic design is probably one of the most exciting industries for incredible online content as creatives proudly display their masterpieces to support those looking for a bit of inspiration. Although following the established blogs will give you a wide range of design, it's always worth watching out for the smaller, perhaps more niche blogs that focus on one area of design. 
The examples below scratch the surface of the talented design blogs springing up across the web every year. Many of them started as personal side-projects for designers which exploded and some have been built by agencies just wanting somewhere to house their inspiration. Whoever runs these design blogs, each and every one is a treasure chest of fresh inspiration and cutting-edge design tips.
Created by designer Amy Kilner, The Design Fix is taking the creative world by storm. The concept is simple; share your work on Instagram with the #thedesignfix and the most interesting posts will be featured on their website and social media.
"The idea for The Design Fix came from using millions of different hashtags on my own work to promote it on Instagram," Amy Kilner told us; "I found myself looking at inspirational accounts and critiquing their promotional activity. I wanted to create a hub of creativity that inspires, celebrates and by example, develops designers worldwide. By using #thedesignfix to submit designs makes the username irrelevant in the selection process - the designer is recognised for their artwork, not their job title. This opens it up to many young designers and could potentially, kick-start their career!"
Although still in its early stages, The Design Fix is racking up thousands of mentions across social. "To spread the word of the site I asked on @thedesignfix's Instagram story who would be interested in helping promote it", Amy continues, "I then created a form on the site to submit details - it has really shocked me how powerful social media can be! I've sent packs to New York, London, Cornwall, Argentina, Wales, Barcelona, various spots in the USA and then some more local places like Sheffield and Liverpool! Quite a few students at Sheffield Hallam, Norwich and Falmouth University have been really interested too."
So where is The Design Fix headed? Amy says, "in the future, I hope the blog and hashtag keeps growing, I'd love to have stalls at creative events to push it further - I want it to be a go-to place for creatives at all levels, I find it so important to push yourself and stay inspired! Creativity is like a ball rolling... If it doesn't get given a nudge then it will stop! There's nothing worse than creative block! You have to get your design fix to keep going..."
 
The Book Design Blog is a venture run by designer Paul Murray, showcasing the very best in (you guessed it) book cover design. A site dedicated purely to one niche area makes it a wonderfully concentrated inspiration piece for designers to admire other's work. The blog also appeals beyond the design audience and towards book lovers, who will love looking through the different representations and illustrations covering their favourite works.
The blog is building up its collection of feature articles too, focussing on the theory of book design as well as latest trends and developments. We love the way the blog actively replies to the comments on these articles and really engages in conversation with its followers. Ideas and arguments are flung about in healthy discussion.
Self-published zines and magazines are also included under the editorial umbrella, who accept submissions from all around the world. The blog is the perfect digital "coffee-table" book, where browsers can get lost in the assortment of editorial formats. Modernism, classical and experimental designs are all included; there's no discrimination on style format which ensures you won't get bored when delving through its archives. Although Murray is a self-described traditional designer at heart, he is willing to look beyond striking typography and a strong grid in order to truly represent the expanse of work available.
The lines between Graphic Design and Web Development are blurring every day. CSS Tricks is here to help Graphic Designers cross that line and make their work look even better on the web! This design blog opens up the realms of CSS for Graphic Designers of all abilities, whether you've been web designing for years or are slowly making the transition.
The blog is run by a team headed by Chris Coyier who founded the site before his other venture CodePen. The team behind the blog boast technical writers down to UX experts who bring the technical side of web design to life.
The basics of stylesheet language are broken down into digestible articles. The latest developments in CSS and web are also displayed on the blog for when you need to check in on the latest trends. Forums, videos and fully fledged guides make up the foundations of the site and help give it the title as one of the go-to CSS blogs around on the internet.
With a Tumblr page almost as wonderful as the website itself, Mr Cup is the creation of freelance designer Fabien Barral. This design blog is how Fabien Barral shares with his fans and other designers his experiences from working on global projects.
The blog is currently undergoing an exciting project as it is laying the groundwork for a new crowdfunded magazine named The Walter Magazine. The magazine will be released every quarter with a limited number of only 3,852 copies. Why 3,852? Because 1883 and 1969 are the birth and death dates of German architect Walter Gropius, after whom the magazine is named after… of course.
This is a comprehensive design blog that hones into the creative thoughts, ideas and inspiration of one man. We read about the people Mr Cup has met and examples of their work alongside incredible annotations of his own freelance design career. "I was looking for a way to organise all the images that inspired me" he states on the website. He wanted to move away from the classic blog format that links out to other pictures, but instead, houses them all on his own site. 
Be prepared for amazing typography, inspirational posters and outstanding commercial projects. Just don't expect a quick five-minute browse… you'll be hooked for longer, we promise.
App.itize.us is a "painstakingly curated presentation of the most well-designed apps" and forms one of the most comprehensive collections of incredible app designs available on the web. Choose from app categories ranging from Kids, Lifestyle, Travel and Entertainment as well as the gorgeous collection of design and photography apps.
Ease of use and simplicity are the traits which Jason, who runs the site, holds highest. He says that there was an urgent need to get back to the basics of what apps were originally designed to do. Established designers as well as emerging talent who are making waves in the industry.
Designers can absorb the inspiration from cherry picked apps which are simple, beautiful and meticulously designed. Not only this, but it showcases a wealth of useful apps for anyone to download whose looking for something useful! Apps to remind you to drink water, apps which list the best "third wave" coffee shops in major international cities and apps which show you the current temperature of Mars… it's a minefield you won't ever want to leave!
Use an app that isn't featured or have you designed your own which you're eager to share? You can submit your own app simply on the website to gain more exposure and praise for your work.
Branding, Packaging and Opinion unashamedly does exactly what it says on the tin. It's a gorgeous collection of brand identity examples and how graphic designers translate it onto their client's packaging products. Founded by Richard Baird who is a freelance writer and designer who has contributed to Design Week and Computer Arts, you can expect only the best-curated works chosen by Richard's impeccable tastes.
More than just an inspiration blog, Branding, Packaging and Opinion, unsurprisingly, offers commentary and opinion on each of the featured designs. Finish Cidre, French restaurant branding and the design identity of Swedish cultural institutions are all bundled into Richard's radar, allowing a wide-spanning look across the world to see what designers around the world have to offer.
There is an entire section dedicated to Logo Reviews which is not only a great inspirational resource bank but a good place to read criticism and opinion of leading graphic designer's work. Packaging reviews assess the freshest, most experimental and downright cool packing released by brands as they come. Opinion from readers is also encouraged, making it a great place to exercise your inner critic and maybe enter a healthy debate. Weekly newsletters mean you never miss a post and, believe us, you won't want too!
With one of the biggest followings on our list, From Up North has rapidly grown over the past seven years to be a driving force throughout the country in celebrating the creative industry. The design blog is beautifully crafted offering video content, how-to articles and an inspiration bank exhibiting work from designers around the world.
The magazine had humble beginnings, starting out as a blog on the portfolio of Daniel Nelson in 2009. The Swedish designer soon realised he had started something special once traffic starting pouring into his blog and he eventually outgrew the server and expanded into a fully fledged website!
The resources section is especially useful for designers, providing offers and deals to help further your careers. These range from 10% of Lynda courses to 15% off iStock! One of the highlights from this section is the SkillShare series, where a selection of established designers share tips and tricks from their speciality for a small fee (with a one-month free trial). Typography, lettering, designing in circles and handmade textures are all available to learn and develop.
Articles range from movie poster illustrations and packaging inspiration to features on big brand's new identities. However one of the most fun aspects of From Up North's collection is "The Creative Feed". Here the magazine presents individual findings their researchers have discovered in photography, illustration and design. You can search for specific keywords and members of the magazine can save their searches to create a personal mood board of inspiration.
Where They Create is a digital haven for nosey-parkers wanting a behind the scenes look of creative projects. Photographer Paul Barbera launched the site as visual documentation of all the fantastic environments and shoots he's been a part of throughout his career. The Australian creative has an observational style, capturing moments in the lives of other artists, painters and fashion professionals to give his readers a thorough representation of the effort that goes into every scene.
The breadth of his travels is evident from the homepage. New York, Milan all the way to Tokyo, each article moves thousands of miles at a time making for a fascinating read. Each article is accompanied by an extensive diary-style commentary noting how he ended up there, descriptions of the people he worked with and also plenty of interviews with some big names!
If you can't get enough of the online version, Paul has moved his design blog to print in a hardback book completely focussed on his travels in Japan. The book explores how Japanese design and art has influenced the world with intimate portrayals of the culture and world. It is the second in Paul's book series, following the worldwide edition which goes behind the scenes of his global projects for clients such as Elle Magazine and Vogue.
If you're a lover of all things print, this is the design blog for you. Every day inspirational pieces of print are posted on the minimalist blog of art director Martin Joubert. The Parisian artist looks for high fashion photography, bold typography and strong layouts to exhibit on his growing blog. If you're an editorial designer looking for layout inspiration or new creative angles, you'll be in the right place.
Magazines are the main print form Martin showcases, but posters, postcards books and programmes make appearances on his feed. You'll see how established photographers set their images against colours and formats with no restrictions on explicit or down-right weird imagery. Sign up to the newsletter to receive an expertly curated selection of print straight to your inbox every day and let Martin do you daily research for you!
Reading experts from magazines in different languages allows you to fully concentrate on the design of each piece. You are left to wonder what content each photograph and design is supposed to illustrate and support, leaving you to make up your own interpretation of each example. If you think Martin's taste in other people's work is good, wait until you have a look at his own projects on his personal website.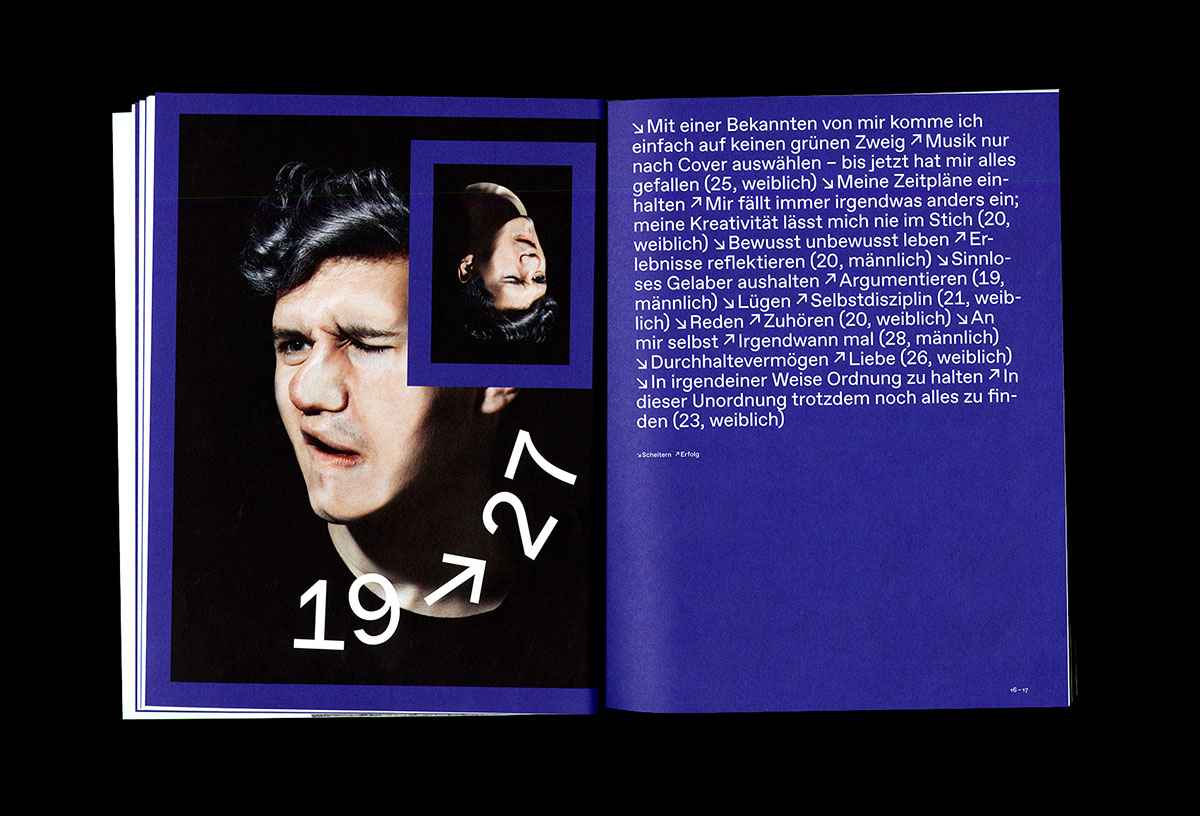 Swiss designer Tina Eisenberg is now based in New York and started the blog merely to keep tabs on her favourite designers and work. As with many of the popular design blogs by designers on this list, the site exploded. People around the world were drawn to Tina's remarkable taste and ability to draw in outstanding work in one simple and easy to navigate space.
Her blog comments on singular photographs she finds powerful to videos and websites she's stumbled across and just had to share. We adore the personal posts that pepper her feed too, unlike some design blogs you can really make a connection with Tina's world as she shares her life with you. It's funny as well as informative with links to her popular talks and articles that have made her the tour-de-force she is today.
As you scroll down the feed, children's animations pop up, followed by a quote from Shakespeare which is above a photo of her and her son on the school run. Products she likes and beautifully designed tattoos are also dotted around making for a truly personalised collection of design. A host of funny YouTube videos make it onto her feed so be warned, you may end up procrastinating for a while on here!
Did your favourite new design blog make it onto our list? Or are you setting up a new blog that you'd like people to know about? Get in touch if you'd like a chance to feature in a future post on the Design Hub. 
---