Behind the Scenes: Kate Mackenzie - Head of Client Services
---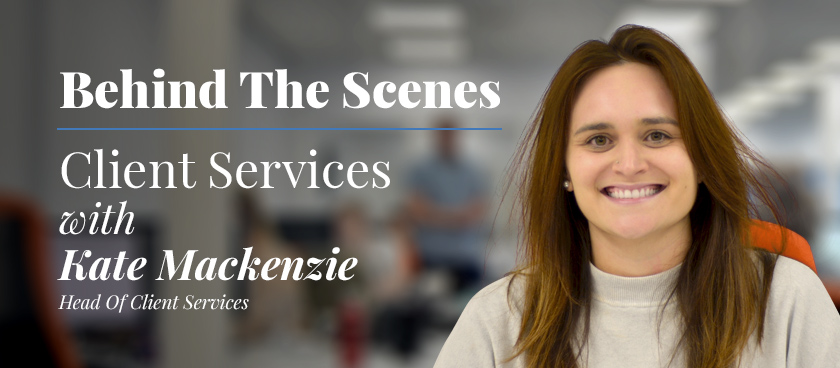 Introducing Kate...who has been with Route One Print from almost the very beginning, when the company was still just an eBay shop. She's watched the company grow and she's been there every step of the way to ensure that our Client Service Team never loses its personal connection with you.
Tell Us a Little Bit About What You Do
I'm in charge of overseeing the Route One Print Client Service Team. That means I look at how the whole team is working to see if we're doing the right things and if there's anything we can do better. I give individual coaching to members of the team where I make sure all their communication is in the right tone of voice and that they know how to handle complaints according to company policy. I also hold team-wide training sessions to keep everyone up to date on the products we offer and the processes that go on throughout the business to complete an order. As well as this, I look out for the members of our team and ensure that they're getting the support they need.
What Does Your Typical Day Look Like?
The first thing I do in the morning is look at the figures from the day before. I look at things like our answering times, the number of calls we handled, complaint resolution times, basically any statistic related to our key performance indicators and service level agreement. These statistics are paramount to making sure that we're doing the best job for our customers because if we're consistently missing these targets then something's going wrong and I have to find out why. At the same time though, we don't base our performance just on these figures. We look at things qualitatively too because we pride ourselves on providing a really thorough service that our customers will value.
After that, my day can vary quite a lot. If I have any coaching or training sessions coming up I'll plan and prepare for those, or I could actually be conducting those sessions. Or, I could be holding one-to-one meetings with members of our team to see how things are going with them and I'll be there to support the account managers with anything they need as well.
What's It Been Like Working with Route One Print Since the Beginning?
I joined Jack, the Route One Print Brand Manager, in 2013, back when we were still an eBay shop and there was just the two of us managing everything to do with Route One Print. We started out with only two or three orders a day but we soon started to develop a following, customers would start contacting us directly for regular orders and suddenly, almost overnight, things just started taking off. It was incredibly exciting! I remember when lamination first came in and when we moved to the larger factory we're at now. It's pretty amazing to look back at what we used to be and see how much we've grown from there.
I really enjoy being part of such an ambitious company. We're constantly looking to the future to see how we can improve and how we can do things differently. I like being a part of that, it makes for a very energetic work environment.
What, in Your Opinion, Makes Route One Print Stand out from Its Competitors?
Well, I have to say the customer service, don't I? But that's not because I'm biased! The Client Service Team for Route One Print really is something which I believe has made the company as successful as it is today. We've been delivering a personal service from day one and that's something we're going to continue to do. When people hear the words 'customer service' they usually think of huge rooms of people where nobody knows clients individually, they're just following the script on the screen. That's just not the case here though. Each of our clients is allocated to a team of just four people who all work together so you will always get through to someone who knows you and your order.
We actively encourage clients to get in touch and we regularly have clients come to the factory so they can see where their orders are going to be made for themselves. I think our clients really appreciate this standard of service, they don't have to repeat themselves to 100s of different people, they trust the people who will be dealing with their order, and I think that's why people come to us.
If you want to meet some more members of the Route One team take a look at our behind the scenes series. 
---