The Production Lifecycle of Perfect Bound Booklets
---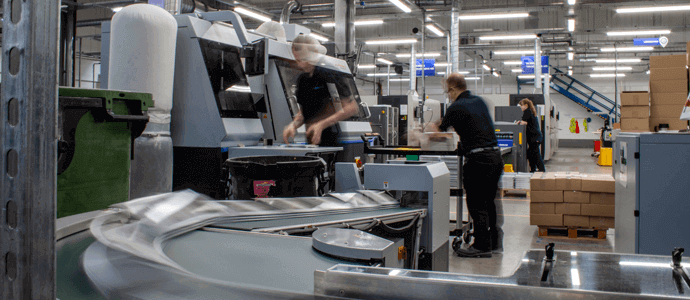 Booklets are big business in the print industry. So big, in fact, that we produce an average of 140 perfect bound booklets every hour in our factory!
But how do we do that? How to we take your artwork file and transform it into a neat, tangible booklet for you to flick through? Read on to find the answer to that question in a virtual tour of our perfect bound booklet journey.
1. Studio
Before any file goes to print in our factory, our studio team need to take a look. That's because we give every booklet a manual artwork check and send you a proof to approve before sending it to print.
Our team are there to make sure that nothing goes wrong with your print. They'll be looking out for problems like resolution and transparency issues or whether all important design elements are kept within the safety zone (remember to leave a 9mm safety zone along the spine edge of booklets).
Once they're confident your print will turn out the way you want it to, they pass the file onto our internal workflow management system for our production staff to pick up.
2. Printing
Not long ago, we used to print booklets on one of our Heidelberg litho presses. Lithographic printing meant we could achieve great quality results at a better cost-efficiency than digital printers.
However, after printing, we would then need to section-fold the pages and collate them. This required an additional production stage and introduced more manual touchpoints where things could go wrong.
Our new Screen Truepress Jet 520HD printers have changed all of that! As an inkjet printer, the Truepress maintains the high quality output that a litho press would but with even better cost efficiency.
Instead of paying per side of paper, the Truepress uses an ink-based costing method which means we can keep prices low for you. Not only that, but we've linked a Tecnau Cutstack C23 inline with the press so that cutting and collating happen immediately after printing. Thus, reducing touch points and increasing efficiency.
The efficiency gains don't stop there as the Truepress is a continuous-feed printer. Our Tecnau Unwinder U9 feeds 50 linear meters of paper into the press per minute! That's the equivalent of 9,000 sides of paper printed on one of our iGens!
Being reel-fed though means that the Truepress only prints our booklet inner pages. If we had to change the reel of stock just to produce its covers, we'd lose a lot of time and efficiency. So, covers are printed on our other presses and then brought to the perfect binder to be turned into a final product for you.
3. Binding
After the pages are all collated, we need to bind them to turn them into a finished booklet. For this, we use our Horizon BQ 470 and our Horizon BQ 480.
As you might guess, the 480 is simply a more advanced model than the 470 but both are highly efficient binders. They each have several automated elements in their set-up process, from the milling mechanisms for glue penetration, to how much glue is applied. This ensures that each booklet has a really strong bind no matter how many pages it holds.
Not only are the machines themselves very efficient, but we've made the process even more streamlined by positioning the binders right next to the Truepress. This is part of a factory wide move to have inline or near-line processes wherever possible. By keeping things efficient, we can keep our production costs low and pass on the saving to you in our low prices.
Once bound, our booklets go to our dispatch team who package them up and send them off to you and your clients!
Both our Truepress and Horizon BQ 480 are new machines from our £3 million investment of 2018 – find out what else we bought in our investment run down. You might also be interested to learn how we go about making roller banners and flyers in our other production lifecycle blogs.
---