Production Spotlight: Truepress Jet 520HD & Tecnau Accompaniments
---
We've had an exciting summer, here at Route 1 Print, with over £3 million invested into factory improvements. Not least of which went on the installation of two Truepress Jet 520HDs from Screen!
That's right, we bought two of them because they really are fantastic! Moreover, we've combined each of the presses inline with some Tecnau accompaniments to create two highly efficient production streams.
Read on to find out how these installations are reducing our turnaround times, increasing our production capabilities, and helping us keep prices down.
Truepress Jet 520HD
Ever since we installed our Fujifilm JetPress 720S last year, we've wanted to continue our investment into inkjet printers. Bridging the gap between litho and digital, inkjet technology gives the best quality print while still being a highly efficient process.
The Truepress is just another example of how we are investing in the latest technology and this press takes efficiency to the next level. Being a continuous-feed printer, the Truepress takes one long stream of paper from beginning to end where it must then be guillotined into individual sheets.
Printing this way means no time is wasted and we can look at offering more products on faster turnarounds. It also uses an ink-based costing model, instead of a sheet-based model, which helps us keep prices low for you.
The Truepress isn't just about efficiency though. It also offers incredibly high quality print. Using JetInspection cameras, the Truepress can assess the print in excellent detail and compare it to the artwork file. This ensures that your print will always turn out the way you expect it to.
Tecnau Unwinder U9
Before ink can be laid to paper, the stock must first be fed into the press on one of our new Tecnau unwinders. Each Unwinder can hold just over 11,000 meters of paper, depending on the stock type.
To keep efficiency high, we manage our workflow to produce several products of the same stock together. This means we don't have to change the reel as frequently and thus minimises wasted time.
The Unwinders can feed 50 linear metres of stock per minute. That's the equivalent of 9,000 sides of paper on our iGEN printers but, of course, the Truepress prints double-sided so is even more efficient.
Tecnau Cutstack C23
Finally, having been printed in one continuous stream, the stock is guillotined, trimmed and collated in one of our Tecnau Cutstacks. By using a rolling blade, the Cutstack can ensure regular cuts in the ream paper, giving even pages.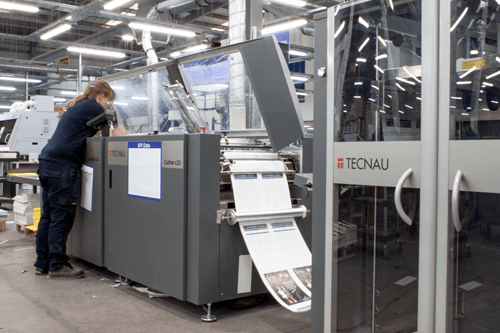 These pages are then immediately collated, making this process perfect for booklet production. Previously, we would print, guillotine, and collate booklet pages in three separate stages. This took time and introduced more manual touchpoints where problems could arise.
Efficiencies don't just lie in the Cutstack's production speed. We've also been able to link a waste extraction tube directly to the Cutstack so that all waste paper is sent directly to our recycling collection point.
Overall, this combination of Truepress and Tecnau technology has proved to be a great fit in our factory. We've managed to cut down our average production time on stapled booklets by 17 hours!
---