Getting Your Print Shop on Google: How to Attract More Customers Online
Marketing & Selling Print
---
Customers research where they shop online. When they want a local business, they will pull up a search engine to see what nearby businesses are most relevant to their search. Searches for businesses "near me" has increased 34 times since 2011 and with searches for "print shops near me" increasing by a whopping 561% in the past 4 years, the online opportunities for print shops are huge.
Interest in "Print Shops Near Me" Searches on Google
So, why is it so important that your print business appears on search engines such as Google and Bing? Not only do 50% of consumers who do a local search on their smartphone visit a store within a day, but 18% of mobile searches for local businesses lead to a sale within one day! Almost 80% of these searches result in an offline purchase.
Basically, you want your print shop online. And you want your shop to be as near to the top of the search engine results as you can when someone is searching for a local printer. 33% of searchers choose the first result on the first results page and 61% of clicks go straight to the top three! Think of how much business you could be missing out on by not even making the first page.
This guide as part of our Digital Marketing Course for Local Printers will show you how to ensure your print shop can be found online by potential customers in the local area, from creating your online profile to cultivating reviews.
What is Local SEO?
"SEO stands for Search Engine Optimisation. It is the process of getting online traffic to your site from "free" or "organic" search results on search engines. All major search engines such as Google, Bing and Yahoo have primary search results, where web pages and other content such as videos or local listings are shown and ranked based on what the search engine considers most relevant to users. Payment isn't involved, as it is with paid search ad." – Searchengineland.com
Local SEO therefore, according to eConsultancy, is "focused on providing results that are relevant to a searcher based on their current location. If I search for 'best steak restaurant' on my desktop right now, Google would provide me with results that are nearest to me."
The more relevant Google thinks your business is, the higher you will appear in the rankings for local searches. There is a wide range of factors that Google takes into account when ranking your business, but we've condensed some of the most important for local searches below so your print shop has the best chance of getting discovered by searchers in your area.
1. Set Up and Optimise Your Google My Business Account
In order to reach the local pack listings which are shown below, you need to set up a Google My BusinessAccount. These listings show the user what Google believes are the most relevant businesses to their search and include the address, phone number and sometimes reviews. The local pack listings are important as a recent survey by Moz concluded that more people clicked on these listings over the top organic search results AND paid advertising. The paid listings below are marked with a yellow square saying "Ad" next to the website.
Setting up a Google My Business account will ensure you show up on Google Maps properly and also increases your chances of ranking higher on organic search results. Once your account has been set up, you can optimise it to get the best results from your listing. To do this you need to do the following:
Enter complete data across your account for all your business information. Don't miss anything out as Google wants customers to know as much about your business as they can. This includes your NAP (Name, Address, Phone Number), which should also be consistent across your website and social media. 71% of people say they look up a business address before visiting, so it is vital you get this right. Put this information in the footer if you can so it appears the same on all pages.
Keep your opening hours up to date, including any bank holidays and weekend hours.
Upload as many high-quality photos of your print shop as you can. Google likes to see transparency in a listing. If photography isn't your strong point, consider hiring one to boost your profile. If your budget doesn't stretch to a professional photographer, consider contacting photography students at your local college or university. This could also bridge new contacts which could develop into customers.
Encourage your customers to leave good reviews as they have been proven to directly impact the visibility of your listing. Respond to these reviews, good or bad if you can as Google has openly stated it likes to see businesses interacting with their customers. With 72% of consumers trusting online reviews as much as personal recommendations, they are a no-brainer to add to your listing.
2. Build Local Citations
A citation, as mentioned above, is when your business's name, phone number and address are listed on a website. It is a signal to search engines that your business is what you say it is! The more citations you have, the higher chance you have of ranking well. There are thousands of websites where you can create a citation, and you can even employ tools such as Moz Local or BrightLocal to help you build them. If you'd rather start building citations yourself, these are good places to start.
Search Engines: First, ensure all your business information is accurate on Google, Bing and Yahoo. These sites should be the fundamentals of your citation campaign.
Local Search Engines: Yelp, Thomson Local and Foursquare are search engines that list local businesses by category and city.
Yellow Page Directory: Yell.com is the online version of the yellow pages and is a trusted source to help build search engine's confidence in your listing.
Local Directories: Listings in local directories usually have to be approved manually. This means they are less likely to host "spam" listings and makes them trusted by search engines. Yahoo's Regional Directory and FreeIndex are great examples of these.
Local Blogs: Popular blogs that receive a high volume of consistent traffic can be strong indicators of a reliable citation. Type in [your area] + blog to see what options you have and get in contact with the blog's owner to ask to be listed.
Town Website: If your town has a website, they sometimes include a directory of local businesses which you can feature on.
3. Embed a Google Map Into Your Website
By embedding a Google Map into your website that points to your Google listing, you're giving search engines another reason to show your print shop to nearby customers. Search engines take distance and directions into account when deciding which print shop will be most relevant to their customers. Include this in your footer or About Us section to keep your address consistent across your website.
4. Encourage Links Back to your Website
The internet is made up of a huge web of sites that link to each other. Google and Bing have developed an algorithm that "crawls" over the web and analyses how relevant and useful each web page is. This algorithm likes websites it can trust. If your website is useful enough for other websites to link to it, search engines see this as a "vote" for your website.
However, some "votes" mean more than others. If a website links to yours that is seen as trustworthy by the search engine, that link will be looked upon more favourably. Websites such as newspapers, charities and established businesses are usually deemed more trustworthy and have a higher "Domain Authority". The BBC, for example, has a domain authority of 100, this is the highest possible rating.
The more authoritative links your print shop has, the higher it is expected to rank on local searches for print shops. Backlinko.com researched 1 million Google Search results to prove this theory.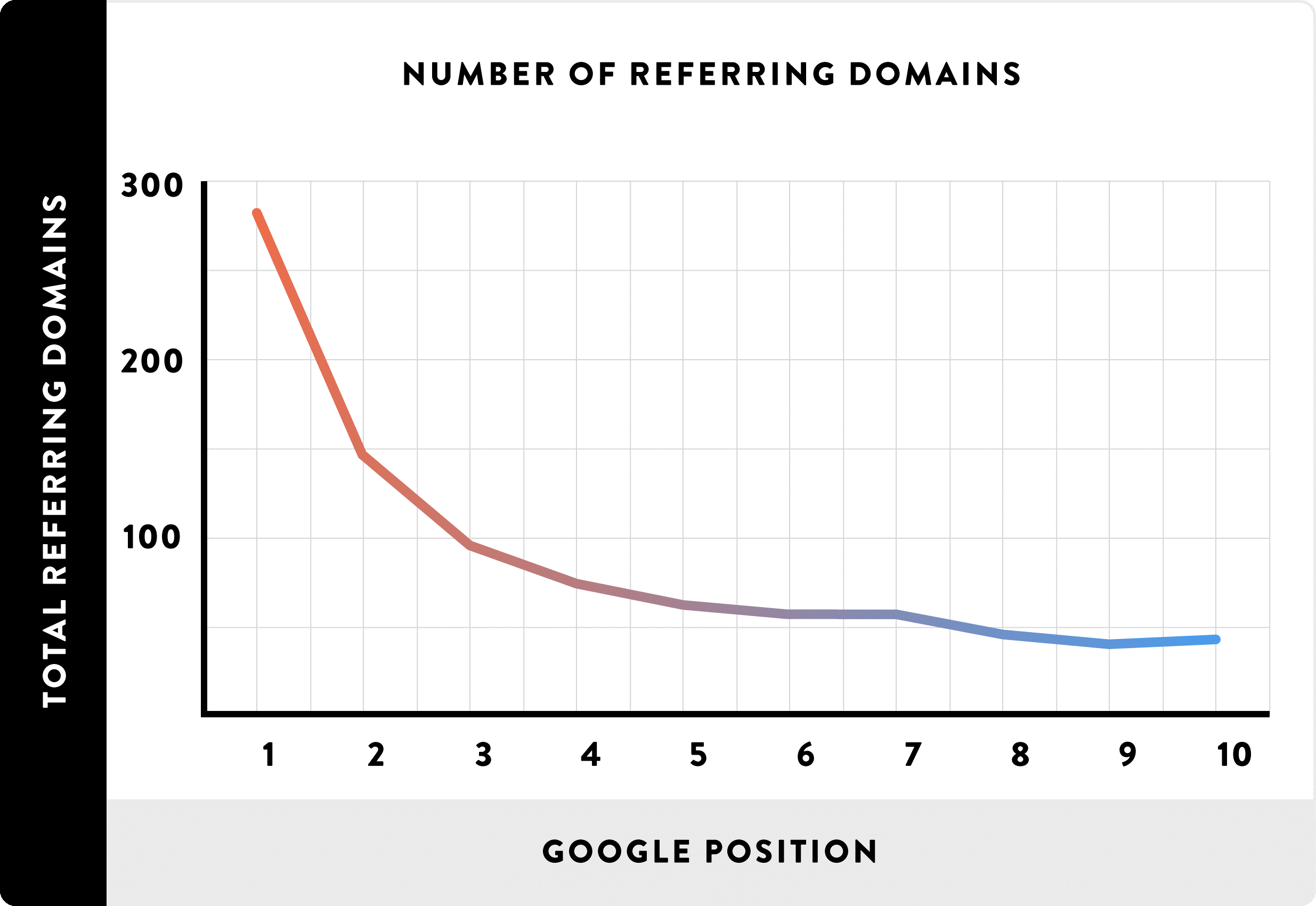 So how do you get authoritative links back to your website?
Engage in newsworthy activity. Local newspapers often have a high Domain Authority and look for stories that are of interest to the community. You could host an event or workshop for other small business owners in the area, or join in with a community project that is expected to get some news coverage.
Support a local charity. Hosting a fundraising event for a local charity is a great way to get links not only from the charity website but from any coverage by bloggers and press about the event itself.
Join in local forums. There are conversations going on every day in local forums that you could contribute to. Find yours by searching [area] forum and a decent list of the best ones should be shown. Be careful not to spam these with links to your website that don't make sense there as search engines will frown upon these. Instead, offer advice or comment on issues that align with your print shop.
5. Use Local Keywords Across Your Website
Keywords are signals to search engines that help them understand what your business does. If they match with what the user is searching for, you're more likely to appear on the ranking page. Set up a free Google AdWords account to access their free keyword research tool. You'll be able to see which keywords variations have the most search volume ("Print Shop", "Local Printers" etc.)
Adding your location to these keywords will help Google understand where you are, such as "Print Shop Newcastle" or "Local Printers Exeter". Once you've defined your target keywords, here's where to implement them:
Meta title & description tag. This is the information which Google presents on the search page. Including relevant keywords in here can increase rankings and therefore clicks to your website. These can be edited in the "website settings" section if you use a hosting service such as Wordpress, or in the HTML of your website here:
Heading Tags: Are the H1 and H2 tags which are used throughout your website. These can be edited in the HTML of your site here:
Why choose Newcastle Printers?
Benefits of digital printing services
Throughout the content of your website: Include your chosen keywords throughout the actual text on your website pages. The golden rule of writing text for SEO is to write for humans first, search engines second. Search engines frown upon "keyword stuffing" sentences to try and manipulate them, for example, "Newcastle Printing Best Printers in Newcastle" doesn't flow as well as "We are Newcastle Printers. Recently voted the best printer in Newcastle, we will go above and beyond to satisfy your print needs".
Paid Advertising
If you have some marketing budget to spare, paid advertising on search engines can be a great way to ensure your listing is at the top of searches. Google and Bing work on a Pay Per Click (PPC) basis, meaning you only pay when someone actually clicks on your listing; you don't get charged if your ad appears but no-one clicks. It is a very streamlined form of advertising since your "advert" is only shown when someone is actually searching for your chosen keywords.
Your search engine advertising campaign is built around keywords. Using a keyword tool such as Google's keyword planner, research what phrases are most relevant to your service. These could include "Local printer", "commercial print in Birmingham" or "copy shop Birmingham" etc. You then set a "bid" on these keywords. Other businesses who want their advert to show for that particular keyword will also set a bid.
The search engines then decide whose advert gets shown by taking into account the bid, the relevancy of your ad to the search and how relevant the web page you link to is to the ad. This ensures only genuinely useful advertisements get shown to customers!
For more on optimising your website, look out for our next article which will focus on ways you can change your website to attract more customers and grow your business. However, hopefully, after this part of our Digital Marketing Course, you will have a clearer understanding of the benefits optimising your online profile can have for your business.
---