How to Optimise Your Print Shop's Website to Make It More Customer Friendly and Drive More Business
Marketing & Selling Print
---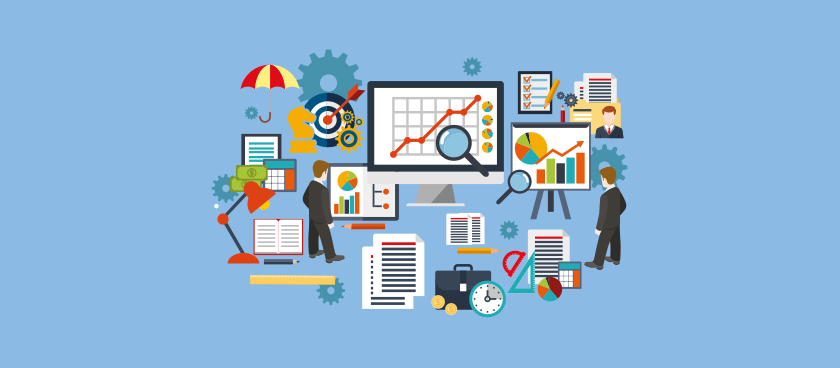 According to a report commissioned by Lloyds bank, 49% of small businesses don't have a website. Print businesses could fall into this category because they don't offer a web to print service, they don't believe their customers are online or they think it's expensive to set up and run a website.
Yet it couldn't be more crucial for Print Shops to provide a great online experience for their customers to compete with larger commercial printers. Consumers spend over 15 hours per week researching on their smartphones and a massive 94% of buyers from businesses research online before making a purchase. Those organisations looking for print from their next campaign will want to see a functioning, informative website to convince them to buy.
Luckily, it's easier than ever before for Print Shop owners to develop and optimise their website. With the array of website hosting options available for a small fee, financial restrictions and digital skill gaps are closing.
This article as part of our Digital Marketing Course for Printers will show you how to optimise your website to turn browsers into customers. By the end of the last section of our course, you will understand why it is worth investing in your website and how it can translate into profit for your business.
Improve Its Functionality and Design
We'll start with one of the trickiest things to get right. User Experience (UX) designers can spend years studying the best ways to layout a website for the user, yet website templates from WordPress and Wix are a great shortcut if you don't know how to write code. A well-designed website evokes quality in your products and service; 38% of people will actually stop engaging with a website if the content and layout is unattractive
There are nifty tricks you can implement onto your website to ensure the customer gets a seamless experience that keeps them browsing for longer.
Don't Overcrowd Your Website: According to Crazy Egg, white space around your text, titles and images increases user attention by 20%. Your website will be easier to read, navigate and will keep customers hooked for longer.
Use Bullet Points in Your Copy: Customers want to absorb as much information as quickly as possible. On your homepage, outline what makes you different and why customers should choose you for their print in bullet points. Describe the available stocks, laminations and uses for the print in bullet points. Keep your lines at different lengths with regular spacing between them to make it easier for customers to scan the information.
Keep Your Website Consistent: All your fonts, colours, heading sizes and photo choices should match across your website. Your homepage, About Us and Product Pages should always follow the same designs. Inconsistent design not only lowers the perceived quality of your product and service, but customers can actually lose trust in your site due to the lack of consistency!
Make it Easy to Navigate: Difficult to navigate websites are a major turn-off for customers. Divide all your product categories clearly from your navigation bar and ensure there are clear links between products. Once on a company's homepage, 86% of visitors want to see information about that company's products and services, so showcase your best-selling print there. This could be your wide-format range, event supplies or stationery; whatever your most popular products are, show them off on your homepage.
Ensure Your Website is Mobile-Friendly
88% of consumers who search for a local business on a mobile device, call or go to that business within 24 hours. As a local business, it is vital that your website can be found through a mobile device otherwise potential customers will pass you by! Search engines also take this into account when ranking your website; there is a 21% decrease in non-mobile friendly web pages on the first 3 pages of search engine results.
If you are using a Wordpress or Wix theme, your website should automatically be mobile-friendly. WPtouch is a plugin you can install to improve the mobile experience. If your website is custom built, ensure your agency or provider applies responsive design to the code. This will allow your website to be viewed seamlessly on any device.
The quickest way to make your website mobile-friendly is to use Duda Mobile or bMobilized that creates a completely different, mobile version of this site. However, while it is quick to set up, it does mean you have to manage two separate websites so only use this as a placeholder until you can create one responsive site that works across all devices.
Speed Up Your Website to Keep Customers There Longer
Site speed is important not just to limit the impatience of your customers, but as a ranking factor for search engines. Google, Bing etc. has been earnest on the importance of site speed as a ranking factor. In their own words, they are "obsessed with speed… faster sites create happy users and we've seen in our internal studies that when a site responds slowly, visitors spend less time there".
As a product-led business, print shop websites must be vigilant on the speed of their site. So how can you improve the speed of yours?
Analyse Your Site Speed: Page Speed can be accessed via your browser and will give you an overview of your site speed before you start optimising. This will help you compare speeds after you've made your changes and will also offer specific ways your individual site can improve on speed.
Compress Slow, Large Images: If you display each of your products on your website, this can slow your site down. Image-heavy websites are prone to slow loading times due to the sheer amount of pixels on screen. 39% of people will stop engaging with a website if images won't load or take too long to load. Image compression websites such as Tiny PNG cut down PNG and JPEG images without compromising on quality and colour. This will speed up your website making it a better experience for customers and search engines alike!
Enable Caching: Caching stores a version of your website on your customer's browser until that page has fully loaded. This can massively reduce your speed time and is fairly easy to install! Try W3 Total Cache if you have Wordpress, or ask your web host who runs your website to enable it if not.
Direct Customers Where They Want to Go to Increase Sales
Once you've got people on your website, converting them into customers is the final task. Hopefully your well designed, easy and informative website has held their attention; here is where you secure their custom.
The key to directing customers to the next stage in their purchase journey is a Call to Action (CTA). This is usually presented on your website as a button with a clear order; "Shop Now", "Call Now", "Visit Us Today" etc. depending on where you want to take them.
Jeremy Smith from Marketing Land says there should be at least one CTA on every page. "Every page gives users a new opportunity to do something — to convert in some way". Here are the most popular actions you'd want customers to take, and how to direct them to take it!
You want customers to:
Buy: Does your website offer a web-print service, or can customers buy print first and submit their artwork to you at a later date? Ensure on all of your products is a clear button that says "Add to Basket". This is an open request that encourages customers to add more to their basket after that item. Make sure there is a "Continue to Checkout" button available either underneath the basket or in the header signalled by a basket symbol to make it as easy as possible for them to purchase.
Request a Quote: If customers are unable to buy what they want from your site, ensure there are clear steps for them to request a quote. A CTA button that says "Request a Quote" that opens up your email address or phone number will help them decide what to do.
Get in Touch: Sometimes customers just want to have a chat. 51% of people think "thorough contact information" is the most important element missing from many company websites and once on a company's homepage, 64% of visitors want to see the company's contact information. Make it clear to customers you are open for business and welcome any calls to answer any queries they have. Having clear contact information on the footer and header of all your pages will also help search engines understand your location for local SEO.
Visit Your Shop: If your website isn't fully stocked with your products or even developed yet, drive them to your shop by placing a map (you can embed this from Google Maps) on the homepage. "Visit Us Today" next to a list of your opening times will encourage users who are nearby to pop in.
Sign Up to Your Newsletter: Customers may be researching printers for a future campaign and aren't ready to buy now. If so, offer the option for them to sign up with their email address so you can keep them updated until they're ready to buy.
Top Tip: Don't just place any old image by your call-to-actions. You should place an image that forces the users to focus on the said call to action. For example, if you had a man holding a megaphone, you would place your call to action by the end of the megaphone. This is a proven way to increase engagement. Poppy Demchy-Cooper, 3mil website design.
Optimising your website is a sure-fire way to find more customers online and attract them to your business. Whether you make the changes yourself or invest in an outsourced service, a great, user-friendly website will do wonders for your business! If you want ways to improve your in-store experience to match your improved website, have a read of The Print Shop Revolution, which covers ways you can diversify your print business online and in-store.
---