How to Sell Print to: Restaurants, Cafés and Bars
Marketing & Selling Print
---
Print customers come from a huge range of different backgrounds and not everyone who comes to you is looking for the same thing. If you can identify what a customer needs, you'll be able to give them a much better service and they'll appreciate you for it.
Today, we're taking a look at clients from the catering industry – owners of restaurants, bars, and cafés. This sector has one of the highest yearly print spends thanks to the fact that they need to change their menus so regularly.
Keep reading to find out how you can steer these customers in the right direction and maximise your sales.
Favourite Products
With this industry, it's all about the menus. Folded leaflets and posters make great menus so it's no surprise to learn that they're very popular amongst catering clients.
An A4 4pp leaflet or an A3 poster gives plenty of page space to lay out what's on offer. They might have separate menus for mains, desserts and drinks, too. Plus, it's nice to have an accompanying A5 flat flyer for any specials.
Opportunities to Upsell
Weightier Stock – A menu is very much the face of a restaurant or café; a low quality menu makes people think they're in a low quality establishment. So, this is what you can use to lead customers towards choosing stocks with a higher gsm.
There's something about weightier stocks that people equate with higher quality print. Not only that, you don't want menus to be flopping over in their stands, do you? A heavier stock will be sturdy enough to look presentable at all times.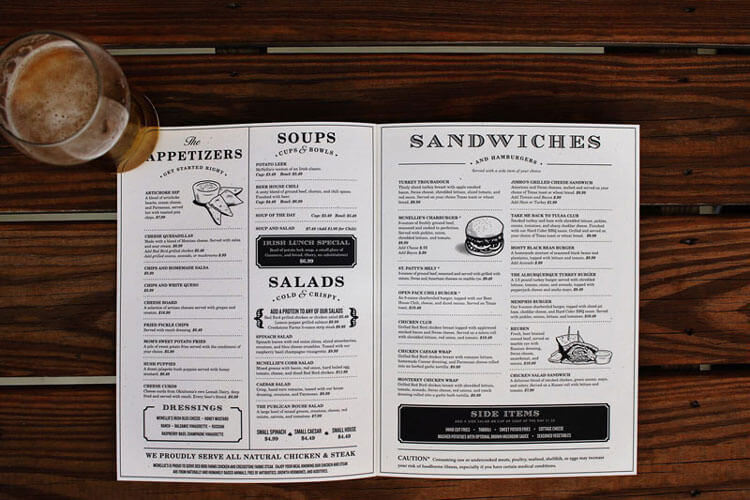 Laminations – In a battle between practicality and aesthetics, this is a tough choice. A lot of businesses these days are going for uncoated stocks for a sense of authenticity. However, laminations protect your menus from food and drink spills.
When you're already paying out a lot for new menus each season, you want to make sure that the menus you have last as long as possible. Laminations make menus more durable and, gloss lamination in particular, mean that you can easily wipe them clean.
Other Products to Promote
Booklets – Sometimes a folded leaflet isn't enough! Or, maybe your client just wants more room to spread out. Either way, a stapled booklet offers your customers more flexibility in their menu design if they're struggling for space.
Table Talkers & Tent Cards – Particularly popular in bars where surface space is short, table talkers and tent cards are a great way to display special offers. Sat on the table, they don't take up much room but they're clearly within a customer's line of sight and engaging to look at.
Business Cards – Not business cards in the traditional sense (although the owner should have their own of those, too). No, we mean using business cards to act as loyalty cards. Why not suggest some uncoated cards that their customers can collect stamps on?
A-Frames – Help your clients fill their tables with an A-frame to bring in customers off the streets. They could display their menu outside so people know what they're getting into, or they could entice people in with a big offer.
Seasonal Trends
The food industry seems to have a gradual increase in print spend over the year but the big push comes just before Christmas. There are so many work dos/friend reunions/team nights out before Christmas – you can bet that restaurants and bars are going to want to capitalise on that.
You can, in turn, capitalise on that need! Throughout October and November, run marketing campaigns to promote the products we've talked about in this blog. Dress up your print samples like menus so that clients can see how theirs could look.
Finally, and most importantly, tell your catering clients what you can offer them! All the information we've given you here can genuinely help catering clients. Pass that advice on and they'll be wanting to buy more print from you without you even having to directly ask them to.
Find a quick overview of these tips plus tips for other print clients in our free eBook, Print Customers and How to Find Them. Also, don't forget to check out some of our favourite examples of restaurant design inspiration!
---